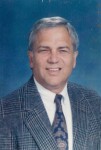 William
L. "Bill"
Franklin
April 27, 1940
-
December 6, 2018
Born in Lewisburg, KY
Resided in

Bowling Green

,

Kentucky
Obituary
William Leon "Bill" Franklin was born on April 27, 1940, and passed away on December 6, 2018. He was the son of the late H.C. (Doc) and Geneva Franklin. Bill grew up in Lewisburg, Kentucky, milking and showing dairy cows for the family farm, Meishan Acres, with twin brother, Bob. He was awarded the American Farmer's Degree— the highest award from Future Farmers of America. He graduated from Lewisburg High School and went on to earn a B.S, M.A.E., and Rank 1 from WKU, where he was a member of Lambda Chi Alpha. He also did doctoral work at Vanderbilt University. Bill was a life-long educator, with 32 years in the Warren County Schools, 29 of which he served as principal at Warren Elementary School. Upon retirement, Bill served as interim principal at 6 different schools, and spent the summers working at Jackson's Orchard. He enjoyed being with family and friends— the Liar's Club for Saturday breakfast, the Walking Group for morning coffee at McDonald's, Friday lunch group, and meetings at El Mazatlan. He loved sports— he coached Little League baseball and softball teams and regularly attended UK, WKU, U of L, and Tennessee Titans games. He was a member of the Lady Hilltoppers sixth man team, the Hilltopper Athletic Foundation and a former host for the Girls High School Sweet Sixteen Basketball Tournament. He loved a good story— to hear them and to tell them. He was a member of State Street Methodist Church, KEA, KHSAA, and KASA. He served on boards of the Jaycees , Indian Hills Country Club, Riverview at Hobson Grove and BGMU, and was the only 2-term president of the board at BGMU, ever. He is survived by his wife of 56 years, Ruth, daughter Heather, twin brother Dr. Robert Franklin (Sandy) and sister Ann Coker (Robert). He was preceded in death by Mary and Michael Franklin. In lieu of flowers, donations can be made to the Leukemia and Lymphoma Society, State Street United Methodist Church Building Fund, and the Warren County Humane Society in memory of Bill Franklin.
Visitation is at J.C.Kirby & Son Lovers Lane Chapel Sunday from 2-7pm and Monday 10 am - 12pm at State Street United Methodist Church prior to the service at noon.
Services
Visitation
J.C. Kirby & Son Lovers Lane Chapel
820 Lovers Lane Chapel
Bowling Green
,
KY
42103
Visitation
State Street United Methodist Church
1101 State Street
Bowling Green
,
KY
42101
Service
State Street United Methodist Church
1101 State Street
Bowling Green
,
KY
42101
Charities
Bowling Green-Warren County Humane Society
1924 Louisville Road
Bowling Green, KY 42101
The Humane Society is an independent, non-profit agency contracted by Warren County to operate the animal shelter, which we moved into in 1983. The Humane Society is not a department of city or county government. The city and county own the shelter building. The Humane Society receives funds from city and county governments to operate the shelter. This funding is used to pay for management/employee salaries, utility bills, cleaning supplies/chemicals, euthanasia solution, cat litter, fuel for rescue vehicles and building repairs/maintenance. Humane Society DONATIONS are used to pay for medical care of sick and injured animals, animal cages, incidental supplies such as food/water bowls, dog/cat treats, canned cat/dog food, dog/cat toys, supplies for fund raisers and education/outreach programs. Hill's Pet Products donates dog, cat, kitten and puppy food.The Humane Society's mission is to provide a clean comfortable shelter for homeless, abused, lost and impounded animals of our community; to place as many of these animals as possible in loving and responsible homes and humanely euthanize those not adopted; to investigate complaints of animal abuse/neglect; and to educate the public about responsible care of companion animals, ESPECIALLY SPAY/NEUTER!

www.bgshelterpets.com
State Street United Methodist Church Building Fund
1101 State Street
Bowling Green, KY 42101
Building Fund
Leukemia & Lymphoma Society
301 East Main St. Suite 100
Louisville, KY 40202-1077